Local mother: Road to foreign adoption leads to happiness
By Sydney Albert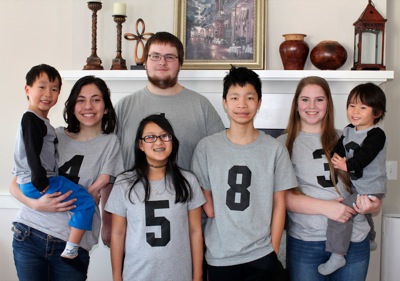 FORT RECOVERY - The adoption process is a long and challenging road that can sometimes end in heartbreak.
A local mother who has adopted internationally five times, however, says welcoming a child in need into the family is well worth the effort.
Alison Homan and her husband, Ted, had always wanted a big family. They had said they wanted four children, and during the first two and a half years of marriage, Alison Homan delivered three babies. However, one child didn't live long after birth, and the back-to-back pregnancies were taking their toll on Homan, who didn't feel she could handle another one.
The couple told themselves they'd be fine with just two children, but they soon felt the urge to expand their family again and decided to adopt.
Now, more than a decade after they adopted for the first time, the Homans have seven children: two biological, four from China and one from Armenia.
The couple have agreed several times that they were satisfied with the size of their family and wouldn't adopt again, she said, but then they would hear about another child in need of a home.
She said they kept adopting because it was "hard to unknow the need" of the children. Even during their first trip to China to adopt Audrey, Homan said they began to understand the full need of the orphans there.
"We knew right away that we would go back. We knew that when we adopted the next time we would probably adopt a child with a mild, manageable special need," she said.
Even if people think they're not ready to adopt, children around the world aren't ready to be orphans either, Homan said. Still, international adoption presents many challenges, and the process can vary from country to country. Over the years as a country's laws change, or even as their relationship with the U.S. changes, the process can become more complicated.
From the time the Homans adopted Audrey from China in 2005 to when they adopted Eddie from China in 2016, the forms they had to complete and the required information were vastly different, she said. Each time, they had to go through the entire process again, too - people
who've adopted before receive no shortcuts.
"We hear all the time, 'Oh, I'd like to adopt,' or 'I've thought about adopting,' but really once you get down to it, not many people follow through because it's a lot of work and it's a lot of money," she said.
The time it takes to adopt a child can vary, too. For the Homans, adoptions took between nine and 14 months, but Alison Homan knows others who have waited or continue to wait for much longer. An acquaintance has been trying to adopt from Haiti for nearly six years. Her brother's family, who has adopted a child domestically through the foster-care system, had to wait two years before they found out they "might" be able to adopt.
International adopters may wait for months for U.S. government approval, only to find out months later that they've been denied by the other country, she said. The Homans never dealt with a rejection from either China or Armenia but know the possibility for prospective parents is very real.
"There can definitely be a lot of heartbreak," Homan said.
The cost of adoption can also be intimidating, and while prices vary, international adoption generally isn't cheap, she said. A
udrey's adoption cost about $19,500
. T
he adoption of their daughter Rita from Armenia cost about $36,000.
why is Armenia almost $20,000 more than China special needs? Hopefully Robin is putting extra money into clinics for special needs children of Armenia, but then....that would keep her from "acquiring" more vulnerable children.
Having money saved up helped the Homans with some adoptions, but for others, they did their own fundraising and received grants. Homan said that when they were trying to adopt Eddie, they raised about $10,000 from the community through fundraisers, cash donations and even a check from the Fort Recovery Community Foundation, and raised another $17,000 in grants.
"It's not user-friendly," she said of the process. "That's why people don't adopt, because you think you're going to adopt, and then you find out everything you have to do. … It's overwhelming. Us as adoptive parents, we won't do it again because it's just too much. It's not an easy process. I'm so glad we have the kids we have, but it's hard."
For all the money they've spent, though, the Homans have become rich in other ways. The family has connections with lifelong friends, both around the country and across the globe. Some of their children keep in touch with friends they've had since they were in the orphanages together. The couple has made friends with other adoptive parents as well as international citizens they've met during their travels. Alison Homan is still Facebook friends with a woman she befriended while in Armenia who worked as a cashier in a store next to their hotel.
"One thing that's been great about our journey is making lifelong friends of people that we would have never met," she said.
Any parents who are considering adoption, whether international or domestic, shouldn't be deterred or discouraged if their family doesn't click from the first moment, either. Homan explained that adoption can be scary for children who are being taken from everything they've ever known. Even if they know they want a mother or father, the change can be unsettling.
"They don't know that they're getting a family. They just know they're getting taken away from what they know as normal. Their normal is their life in the orphanage, so they don't know that it's a good thing. But boy, they figure it out really quick," she said.
When adopting sons Paul and Jesse, both as toddlers, neither warmed up to the Homans right away. Rita, whom they adopted at age 7, "freaked out" when she realized she was being taken from her orphanage on adoption day, even though she'd loved the couple during every previous visit.
In instances such as these, adoption guides from the home country are invaluable. Trained in every part of the rollercoaster process, they aid in communicating with children and calming them in the language they know. Homan said they developed a strong bond with every adoption guide they had, "because they're what makes your family click."
The couple still frequently has issues, but from people outside their family. By now, the Homans have had a "blended" family for years, but Alison Homan said people still ask her and her husband which children are their "real kids." It's frustrating, she said, because they're all her real kids.
"It's something my mother-in-law had shared with me throughout the years, too, because even though she adopted white babies, white infants, people knew that her older kids were adopted, and if she had all of her kids together, people don't have a problem saying, 'Now which ones are your real ones?' But as a mother, they're all - I mean, we don't look at our kids any different. They're just our kids." https://www.dailystandard.com/archive/2018-03-22/stories/34591/local-mother-road-to-foreign-adoption-leads-to-happiness